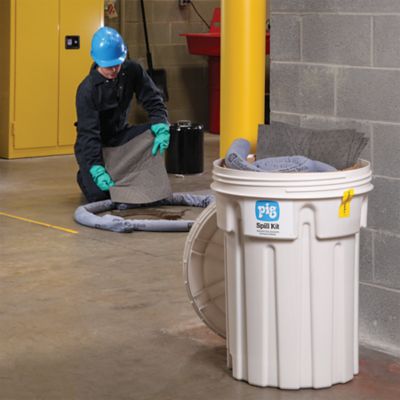 When an emergency spill response situation arises it is important that you have easy access to spill equipment to enable fast & effective spill cleanup. PIG Spill Kits contain everything you need for absorbing, containing and cleaning up leaks and spills; however, if they are not packaged to enable fast response, your spill response time could prove to be much longer than you imagine. The environment could also suffer as the process of cleaning up oil spills and dangerous chemical spills becomes more difficult.
Choosing a spill kit that is packed for easy access and fast response will ensure that you get the most out of your spill kit and achieve effective spill cleanup quickly and efficiently. Here's why:
1. Organised packaging of spill absorbents
Some spill kit suppliers pack their spill response kits with absorbents any old way. NOT New Pig! After spending time with spill responders, we learned what the best spill response techniques were and packaged our spill kits to reflect these learnings. PIG Spill Kits have absorbent products like PIG Absorbent Socks and Booms at the top to contain and divert the spill. Absorbent pads and pillows are packed under these to soak up the spill once it has been contained. Some spill kits contain lift-out cardboard trays which hold the spill absorbents you need first so that fast response can be achieved.
2. Helpful spill response guidance & accessories included
It is all very well and good having the correct type and size of spill kit but if you are unsure of how to use it to your best advantage then spill cleanup could be hindered. New Pig includes helpful informational tools in our spill kits which explain effective steps to take when responding to a spill. Before an emergency spill response situation occurs these can be used to educate spill responders and enable fast, efficient spill response. Accessories such as temporary disposal bags and ties are also included for easy disposal and simple cleanup.
3. Easy Access Containers
Spill kits are available in many different styles of container. New Pig's Spill Kits have containers that provide immediate access, organised spill absorbents and fast response. Some of our spill kit containers have hinged lids and full height double doors to offer direct access to all contents and have adjustable shelves inside so that spill absorbents are organised depending on your spill response needs. Some smaller spill kits have simple hook-and-loop closures that are easy to open for fast access to absorbents in an emergency spill response situation.  
Find out more:
New Pig provide a comprehensive range of Spill Kits from our online shop. Or why not give us a call on 0800 919 900.