Today's tough economic climate is forcing most people to budget more effectively. However, selecting an absorbent mat strictly on a low price doesn't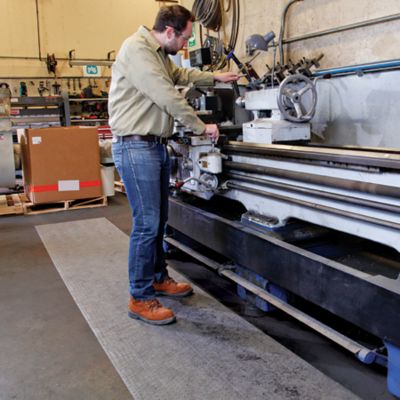 Today's tough economic climate is forcing most people to budget more effectively. However, selecting an absorbent mat strictly on a low price doesn't necessarily translate into cost savings. The smarter choice is quality, durable mats that can save you time, effort, and money in the long run.
Inside the choice for an absorbent
Choosing a high-quality Absorbent Mat specifically designed to meet your needs is the quality solution that provides value. The 5 tips below show how choosing quality over low-price absorbents can help save you money.
1. Quality is the best value, durability is key
Consistent quality and advanced technology are at the core of every PIG Mat. Eight layers of 100% polypropylene are thermally bonded to make PIG Mat the strongest mat on the market; it won't rip, tear or fray even when saturated. It also handles workplace traffic without falling apart. Strong, durable PIG Mat lasts longer, so you use fewer mats and spend less time replacing them. That means that workers can focus on their primary day-to-day responsibilities, saving you money in the long run.
2. Retention is just as important as absorbency
All those layers wouldn't mean slop if they weren't made from top-grade materials. Each PIG Mat has a fine-fibre microstructure for better liquid distribution and retention. This highly absorbent, fine-fibre construction won't leave behind liquids or fibre residue. Our exclusive dimple pattern speeds wicking of liquid throughout the mat for faster, easier cleanup, saving you money and time. High retention and absorbency means less mat will be used, saving you money on usage and disposal cost, and less time will be spent on changing out mats.
3. Hide the leaks & spills for longer mat life
Some customers toss their absorbents before they are used to full capacity. The colour of absorbent mats can help to make sure that mats are fully saturated before they are thrown away. Dark-coloured PIG Mats such as our grey or brown versions hide spills for a cleaner appearance so the mats stay on the job and look cleaner longer. This means less mat will be used and more money will be saved by your organisation.
4. Use only what you need
PIG Mat Pads and Rolls come in various sizes and some come with easy-tear perforations, so you use only what you need. And, by using less mat you save more money. They also come in various weights, so if a heavy weight mat is not needed, go for a lighter weight option. Choosing the correct mat for your application will ensure you that the mat is used to its full potential. One way to make sure that your company isn't throwing mats out too soon is to "rummage in your rubbish." Look in your bin to make sure absorbents are being used to maximum absorbency. If they are not being used to full absorption capacity, drop down in absorbency weight.
5. Safety first: prevent slips, trips, and falls
In the UK, slips and trips are responsible for 60% of all reported accidents that happen in the workplace, according to the Health and Safety Executive. This results in high medical bills and lost productivity. A reduction in slip-and-fall injuries will save your company money by reducing workers' injury costs and keeping workers healthy and on the job. Bundles of rags and tattered cardboard present dangerous slip and trip hazards because they do not lie flat on the floor and are ineffective at soaking up liquids. Absorbent mats lie flat so workers won't trip, and they completely absorb liquid so workers won't slip.
PIG Mat's 8-layer design combines grip and strength to reduce slip hazards and keep floors clean. To help prevent slips, highly absorbent polypropylene soaks up and retains liquids quickly whilst melt-blown fine fibres grip the floor, even when saturated. To help avoid trips, PIG Mat is thermally bonded to form the most durable mat available. It is abrasion resistant so it won't rip, tear, fray, or leave behind residue.
Give it a try for yourself and see how high-performance PIG Mat will save you money. Free samples are available — just call or email our customer service team to have yours shipped today.
Find out more:
New Pig provide a comprehensive range of Absorbent Mats from our online shop. Or why not give us a call on 0800 919 900.