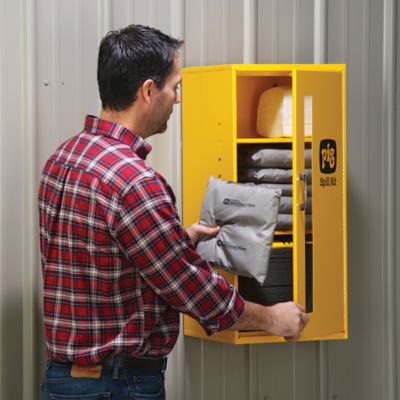 You can make sure you are prepared for leaks and spills in your facility with the right PIG Spill Kit based on the type of liquid you work with, the volume that is likely to spill and the container that is best for your location. However, although you may have the right kit for your needs, at the time of a spill you may not have enough absorbents to deal with it because your kit has been tampered with and the absorbents inside have already been used. When an emergency spill happens this is not the best time to realise this. It is better to be take steps to pilfer proof you spill kits and make sure you are always prepared.
New Pig offers different spill kits you can choose that come in pilfer proof packaging and some accessories that you can use to make sure your kits are tamper proof. Also, delegating responsibility for checking that spill kits haven't been tampered with and are always filled with enough absorbents will ensure you are always prepared. Find some helpful tips about how you can make sure your PIG Spill Kits are pilfer proof below:
1. Use tamper proof seals
You can ensure that your PIG Spill Kit is always ready for an emergency spill response situation by using tamper proof seals to help you identify if your kit has been tampered with or not. These should be placed on the outside of containers and in a clearly visible colour so that you can see if supplies may need to be replenished. Broken or missing seals will indicate if someone has already been into the spill kit to use the absorbents. Upon seeing a broken seal, you should check that the kit has enough absorbents to deal with a potential spill in that area. Tamper proof seals can be replaced once you check and restock your spill kit for future indication of usage.
2. Perform routine checks on supplies
It is important to make sure that your PIG Spill Kits are always packed with enough spill absorbents to contain and clean up leaks and spills when they happen. Monitoring of spill kit supplies should be an important and critical step in your spill prevention plan. Using tamper proof labels as mentioned previously should make this easier; however, as well as using accessories like tamper proof seals, it is important to appoint someone to regularly check your spill kits to make sure the kits are always prepared for an emergency spill situation. A plan and process for checking supplies and recording checks should be developed so that your employees are safe in the knowledge that spill supplies are available should the worst happen.
3. Choose spill kits with pilfer proof packaging
New Pig supplies spill Kits that are packed inside their own heat sealed disposal bags or vacuum-sealed bags. The only way these types of Spill Kits can be opened is by bursting open the bag, making it easy for you to identify if someone has used the kit already. Although a burst bag doesn't always indicate that supplies have been used it will alert someone to check the spill kit and replenish stock if they need to.
Another way to easily inspect kits for pilfering is to choose translucent or clear Spill Kits. This type of packaging allows for rapid inspection of spill kit supplies.
Your spill kits should always be packed with enough spill absorbents to contain and clean up spills that are likely to happen at your facility. By using the three tips above you can make sure that your kits aren't tampered with and are always prepared for liquid spills in your facility.
Find out more:
New Pig provide a comprehensive range of Spill Kits and Spill Kit Accessories from our online shop. Or why not give us call on 0800 919 900.