Choosing the correct PIG Spill Kit will help you achieve fast and effective spill cleanup and prevent costly damage to stock and the environment. Your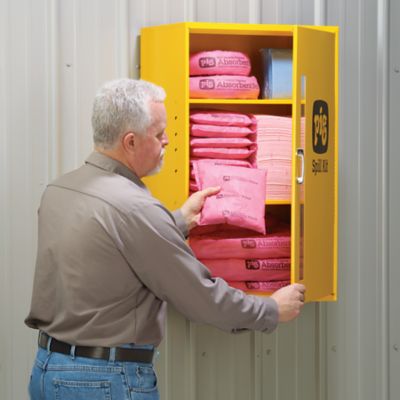 Choosing the correct PIG Spill Kit will help you achieve fast and effective spill cleanup and prevent costly damage to stock and the environment. Your choice of PIG Spill Kit should be dependent on the liquids that are likely to be spilled at your facility. If you are involved in the manufacture, distribution, use and storage of chemicals, a HazMat spill kit which absorbs acids, caustics, other oil- and water-based liquids and unknown liquids will make sure you are prepared for any chemical spills that may occur. The best advantage of being prepared is reducing costly slip and fall accidents and preventing expensive environmental damage.
As well as having the correct type of PIG Spill Kit when dealing with chemicals, it is important to make sure that your PIG HazMat Spill Kit is always packed with enough spill absorbents to contain and clean up dangerous chemical spills. Monitoring of spill kit supplies is an important and critical step in your spill prevention plan. Checking and inspecting your PIG HazMat Spill Kit on a regular basis will make sure that you are always prepared for any emergency spill response situation. So, how can you ensure inspection becomes a priority? Find out below.
Delegate responsibility for checking and inspecting HazMat spill kits
The first step towards making sure your PIG HazMat Spill Kits are always prepared for chemical spills at your facility is delegating responsibility to an employee or employees for checking the contents and ordering replenishment stock. This could be a spill responder or the health and safety manager. It is important that everyone knows who is responsible so workers can be safe in the knowledge that spill absorbents are available in case of a chemical spill. A plan and a process for recording PIG HazMat Spill Kit inspections should be drawn up so that when a chemical spill happens at your facility your employees know they have the right amount of spill absorbents to deal with the amount of liquid. Otherwise, you may not realise that you don't have enough absorbents to deal with a spill until it actually happens, resulting in dangerous accidents and possible environmental damage. With routine checks you can make sure your facility is prepared and you can act fast to prevent dangerous chemical spills from spreading.
Choose HazMat spill kits in clear bags
New Pig provides PIG HazMat Spill Kits in clear bags so that it is easy for you to check supplies at a glance and monitor stock levels easily. This can save time when checking and inspecting your HazMat spill kits and allow you to act fast when a chemical spill happens.
New Pig makes it easy to determine the type of clear bag spill kit with colour-coded product labels and spill absorbents inside the kit. HazMat spill kit labels and spill absorbents are colour coded pink so that they are easily identifiable when a dangerous chemical spill happens. With clearly labelled clear bag spill kits your facility everyone can see when supplies are running low and alert the person responsible for stocking up.
Quick and easy replenishment
Replenishment of stock can be made easier by choosing a HazMat spill kit that has a refill available. New Pig provides refills for their kits to ensure that stock can be replenished with ease. The routine checking and inspecting of you HazMat spill kits will determine when refills need to be re-ordered, and this can easily be done by recording the products to reorder.
Find out more:
New Pig provide a range of HazMat Spill Kits from our online shop. Or why not give us a call on 0800 919 900.