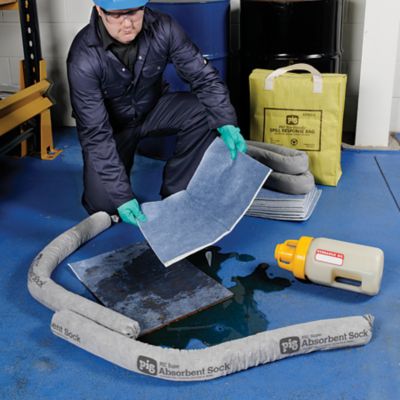 Effective spill cleanup can be achieved by having the correct spill equipment on site. Spill kits are great for effective leak and spill cleanup, because they contain everything you need for absorbing, containing and cleaning up dangerous leaks and spills. Spill kits are an Environment Health and Safety Officer's best spill prevention tool, if you choose wisely. Read on to uncover some of the most common and dangerous mistakes made when choosing a spill kit and tips for avoiding them.
1. The spill kit chosen is not compatible with the liquids at your facility
Spill kits must be compatible with the type of liquid used at your facility or they may not work as well as you expect. If you have an absorbent spill kit designed to absorb both water and oil-based liquids when responding to an oil spill on water, it can be a costly mistake because the product will absorb both water and oil, causing it to eventually sink. This is not an environmentally friendly way to treat a spill on water. Likewise, if you use a spill kit with limited chemical compatibility when responding to a highly corrosive liquid it could result in an undesirable chemical reaction that is potentially hazardous to employees.
New Pig's spill kits are available in three varieties to help you choose the right one for your needs: Universal for oils, coolants, solvents and water; Oil-Only for oil-based liquids only; and HazMat for corrosives or unknown liquids. By knowing what liquids are used in your facility, you can select the correct absorbent spill kit to meet your spill cleanup needs, reduce environmental spill damage and keep you and your employees safe.
2. Not enough absorbency volume in your spill kit
Having the wrong size of spill kit at your facility can also endanger you and your employees. The spill kit you have selected should be able to handle the volume of your worst-case scenario spill. This requires you to evaluate the spills that can occur at your facility and plan accordingly. If your spill kit cannot absorb the correct volume of liquid, you will not effectively contain and clean up a spill. This can prove expensive as an oil spill or leak can travel quickly, causing damage to equipment, waterways and employees slipping on a wet surface.
Having the correct size of spill kit for the right type of liquid will ensure that you are prepared for any leak or spill in your facility, and dangerous accidents can be avoided.
3. Inadequate stock inside the spill kit
Although you may have the correct spill kit for your needs, it is important to ensure that absorbent stock levels inside the kit are monitored on a frequent basis. Otherwise, you may not realise that you don't have enough absorbents to deal with a spill until it actually happens, resulting in disastrous consequences.  You may end up having to use other ineffective spill equipment to try and clean up the spill, which in turn can create more of a hazard.
New Pig provides refills for the majority of our kits to ensure that stock can be replenished with ease. Refills should be chosen based on your absorbency needs and you should remember to prepare for your worst scenario.
Plus, some of New Pig's spill kits are available in clear bags so that it is easy for you to check supplies at a glance and monitor stock levels easily. Monitoring of spill kit supplies is an important and critical step in your spill prevention plan.
4. PPE included in spill kits may not be compatible
If you have a spill kit that came with PPE included it is likely that you will make the assumption that the PPE will work with the same type of liquid as the absorbents inside the spill kit. However, this is not always the case as one fabric cannot resist all of the chemicals you use. A spill kit including PPE could endanger your employees as users are likely to take more risks if they think they are protected and if the PPE included is not compatible with the liquids used then accidents could happen. Wearing incompatible PPE is more dangerous than wearing nothing at all.
New Pig offers a full range of PPE that you can fit into your spill kit once we have worked with you to establish the appropriate chemical compatibility and size.
5. Drain protection included in spill kits may not be the right size
Some spill kit suppliers include drain protection in their spill kits, but what are the odds of it being the right size? If you have a spill kit that includes a drain cover, you probably assume that it will fit the drain size that you have in your facility and will be adequate when a spill happens. This is not always the case. The drain cover may be too small for any of your drains and will not stop any spills from leaking into drainage systems. Additionally, the drain cover may not be compatible with the liquid that has spilled, causing it to melt on contact and allow spills through. Using a spill kit with a drain-blocker included can therefore endanger employees and the environment.  Ensure that you properly measure your drains and order drain protection equipment accordingly as part of your spill prevention plan. Once you've done that, New Pig offers a broad range of drain protection that can fit into your spill kit.
Find out more:
New Pig provide a comprehensive range of Spill Kits from our online shop. Or why not give us a call on 0800 919 900.